I apologize for the late post as I was celebrating a birthday today with family. While the developments in the market were not ideal, they still fit completely within our current framework. As always, proper risk management is the most important thing, and despite some divergences today, if the dollar continues to show strength relative to other currencies…
…we will have to step to the side and wait for a new entry. Our long positions in metals and miners are back to square one, and we knew that going against the momentum was bound to be choppy. The retest today was on much lighter volume than Feb. 20th, but that is no guarantee that the move down is over. Miners actually dipped slightly below their lows but managed to end the day above them. Any further weakness tomorrow and they will be removed from our portfolio until another high risk/reward setup is presented. GLD was not as weak, but still could not stay above its 9 EMA over the last two days.
The SPY gave us our desired short entry today as it approached the previous highs and faded into the close. A short position with a stop above the 153.28 high is a great risk/reward entry as we watch for momentum to roll over. A swing high tomorrow would be further confirmation of a move down into a cycle low, but we have to be prepared for one more attempt at the highs if we are still in the previous aging daily cycle.
Here are the charts from today:
SPY
UUP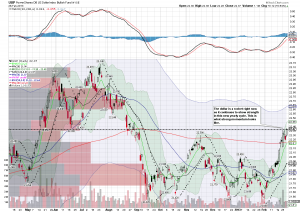 XIV
GLD
GDX
To summarize, our gameplan for tomorrow is:
Stop out of GDX upon further weakness
Stop out of GLD if price moves under the Feb. 20th lows
Watch our SPY short for a swing high as further confirmation of a move into the daily cycle low
Watch XIV for confirmation of a move down in equities
One thing to keep an eye out for are the beautiful pullbacks and MACD crosses in the $VIX, FXY, and TLT after their big pops Monday. With the sequester in play tomorrow, this would be a great time for the $SPX to move down into a daily cycle low:
$VIX
FXY
TLT
I apologize for the shorter than usual post tonight, but my family has made  a delightful dinner and I have some angel food cake and strawberries to make disappear.
Good trading all.
Steve Chapman, TRI